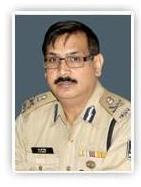 This gives me pleasure to share that Biju Patnaik State Police Academy is achieving vibrant heights on all fronts. The qualities of educational and training inputs at BPSPA match with the best ones in the country.
The quality of Police service depends to a great extent on the quality of training and the type of mental and physical shaping. In order to strengthen all aspects concerning professional as well as behavioural training inputs, skill craft and research facilities at the Academy are making remarkable difference.
Our effort is to focus on professionalism, to build public trustworthiness and better investigation skills through latest scientific aids and facilitative techniques of learning. This will pave much brighter ways for further refining police functioning at the cutting edge level.
As a part of self disclosure strategy under Right to Information Act, 2005 and to broaden the horizon of BPSPA, it is my pleasure to dedicate our Website bpspaorissa.gov.in to the sacred cause of policing in the State of Odisha. I hope that the people around the globe shall find this Website useful.
Sri K. B. Singh, IPS
Director BPSPA, Odisha.
>>
BIO DATA