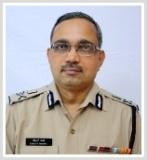 It gives me immense pleasure to share that Biju Patnaik State Police Academy is achieving vibrant heights on all fronts and has, by now, firmly established itself as a center of excellence in the field of training at different ranks of police personnel of Odisha Police. Our effort is to focus on professionalism, to build public trustworthiness and better investigation skills through latest scientific aids and facilitative techniques of learning.
Biju Patnaik Police Academy is proud to be part of this tradition. I am proud to be associated with the academy as its new Director. I hope that the people around the globe shall find this Website useful.
Sri S. M. Narvane, IPS
AddI.DGP., Trg. & Director, BPSPA,
Odisha,Bhubaneswar .
>>
BIO DATA