Sri Satyajit Mohanty, IPS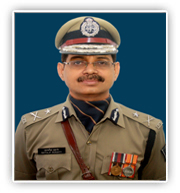 Belongs to 1988 batch of Indian Police Service.
Started his career as ASP, Jeypore in 1990, served in the capacity of Addl.SP, Puri and SP in Koraput, Rourkela, Cuttack & Balasore. He also served as SP, Vigilance and Addl. Transport Commissioner, Odisha.
On promotion to DIGP, he was posted as DIGP, Northern Range, Sambalpur, Central Range, Cuttack and Western Range, Rourkela.
On promotion to IGP, he was posted as IGP, Western Range, Rourkela, Fire Service & Home Guards and IGP (Finance), Odisha.
Shri Mohanty during his service career has received many commendations & rewards. Notable among them is the Police Medal for Meritorious Service in 2004.
Apart from his post graduation degree, Shri Mohanty has done his LLB from Utkal University and Master of Human Rights from Pondicherry University.
His area of specialization is Human Rights and Police Reforms.
His Publication Include Three Books

Human Rights
Police in India: Role Responsibility & Accountability
Human Behavior and Police Ethics

He is a guest resource person of National Police Academy, Hyderabad, Gopabandhu Academy of Administration, Bhubaneswar and Judicial Academy, Cuttack.
At present he is nominated as the Executive Committee Member of National Police Mission of Govt. of India, researching in the field of police reforms.
Shri Mohanty takes keen interest on sports and games.
He is a tennis player of State police team.
Presently he has been functioning as the Vice-President of Odisha Tennis Association.